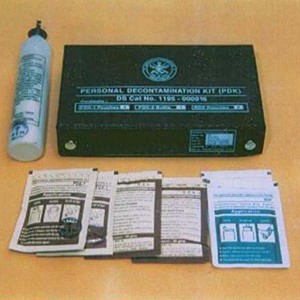 In case of chemical or nuclear attack, it is important to clean and decontaminate the surfaces as early as possible. To clean small areas, of chemical agents as well as fall out dust from clothing, gloves, shoes and personal weapons etc., Personal Decontamination Kit has been developed.
It consists of:
PDK I     : A pad containing Fuller's Earth
PDK II    : A puffer bottle containing Fuller's Earth
RDP        : Tissue Paper soaked in neutral solution
All these components are packed in one Rexene Box.