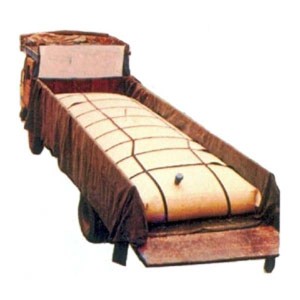 Raksha Flexible Tank is a portable, collapsible container primarily meant for transportation of materials and powder forms.
The tank is made out of high tenacity polyamide fabric coated with compatible polymer to suit a wide range of applications. It can be used for carrying water, oils (both edible and industrial), most acids and alkalis.
The tank can be folded easily. The folded tank occupies a very small space and can be stored over the driver's cabin of a truck.
Specifications:
| | | | |
| --- | --- | --- | --- |
| Normal Capacity (Ltrs) | Tank Dimensions when Full (Mtrs) | Tank Dimensions when Empty (Mtrs) | Empty Weight (Kgs) |
| 500 | 1.50 X 1.10 X 0.45 | 1.60 X 1.20 | 12 |
| 1000 | 2.30 X 1.20 X 0.45 | 2.40 X 1.35 | 20 |
| 1500 | 2.50 X 1.50 X 0.45 | 2.65 X 1.65 | 24 |
| 2000 | 2.75 X 1.65 X 0.45 | 2.90 X 1.80 | 29 |
| 2500 | 2.90 X 1.80 X 0.50 | 3.05 X 1.95 | 33 |
| 3000 | 3.50 X 1.80 X 0.50 | 3.65 X 1.95 | 38 |
| 3500 | 3.90 X 1.80 X 0.60 | 4.05 X 2.00 | 43 |
| 4000 | 4.00 X 1.80 X 0.60 | 4.30 X 2.10 | 48 |
| 6000 | 4.15 X 2.20 X 0.75 | 4.45 X 2.50 | 65 |
| 6500 | 4.50 X 2.20 X 0.75 | 4.80 X 2.50 | 70 |
| 7000 | 4.85 X 2.20 X 0.90 | 5.15 X 2.50 | 78 |
| 8000 | 5.40 X 2.30 X 0.90 | 5.75 X 2.60 | 92 |
| 10000 | 6.50 X 2.30 X 0.95 | 6.80 X 2.60 | 125 |
| 15000 | 7.00 X 2.70 X 1.00 | 7.30 X 3.10 | 165 |
| 20000 | 7.50 X 3.10 X 1.10 | 7.90 X 3.45 | 200 |
| 30000 | 9.00 X 3.50 X 1.20 | 9.50 X 3.85 | 240 |
| 50000 | 10.00 X 4.20 X 1.40 | 10.75 X 4.70 | 345 |