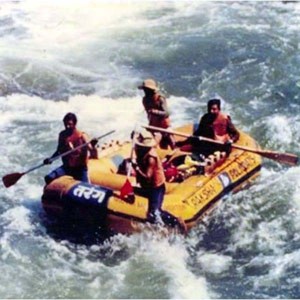 The Rapids, gushing and unforgiving are a challenge. But there are some who dare to go, who dare to defy the challenge of these unforgiving rivers. Just for the sheer thrill of conquering them. Thrill that's intense. The thrill of White Water Rafting.
But even those who dare challenge, do not forget the golden rule.
Safety is the most critical aspect of White Water Rafting. And safety to these dare devils means quality, reliability and steadiness. That's exactly where Raksha comes in, having been in the business of rubber inflatable's for over 2 decades. Raksha's R & D has developed very high quality compounds that go into the making of these Inflatable's. Quality, Reliability, Steadiness and Elegance. Just why our products are total value for life and of course, money. And not to forget that Raksha's products are also in line with the standards prescribed by the International Maritime Organization.
Raksha White Water Raft is made out of high Tenacity Polyamide Fabric coated with Neoprene and Hyplon rubber(Synthetic Rubber).
Nominal Dimensions:
| | | | | |
| --- | --- | --- | --- | --- |
| | 7-8 Men | 9-10 Men | 12-13 Men | 16-17 Men |
| Overall Length | 12.00' (3600 mm) | 14.00' (4200 mm) | 15.00' (4500 mm) | 18.00' (5400 mm) |
| Inside Length | 9.00' (2700 mm) | 11.00' (3300 mm) | 12.00' (3600 mm) | 15.00' (4500 mm) |
| Beam Overall | 6.20' (1860 mm) | 7.15' (2145 mm) | 7.33' (2200 mm) | 8.00' (2400 mm) |
| Beam Inside | 3.26' (980 mm) | 3.66' (1100 mm) | 3.80' (1140 mm) | 4.40' (1320 mm) |
| Buoyancy Dia | 1.46' (380 mm) | 1.73' (520 mm) | 1.70' (510 mm) | 1.80' (540 mm) |
| Thawarts Dia | 1.26' (380 mm) | 1.40' (420 mm) | 1.35' (405 mm) | 1.46' (440 mm) |
| Thawarts Nos | 2 | 2 | 2 | 2 |
| Chambers | 4 | 4 | 4 | 4 |
Optional Accessories:
Life jacket, Helmet, Paddle, Oars, Throw Bag